JOIN
charmcontest TODAY!
A new, non-animated icon contest community.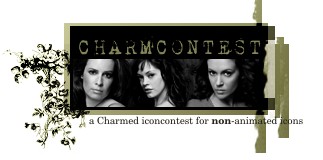 Wanting to try out something new, this community is going to be different from other well known stillness communities, here, at lj.
Every week one picture will be given and members will have to make atleast two different icons out of it. Though, the challenges will change from time to time.

NEW MEMBERS ARE WELCOME TO JOIN AND START SUBBMITING THEIR ICONS!