JOIN
charmcontest TODAY!
A new, non-animated icon contest community.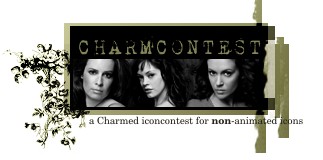 Wanting to try out something new, this community is going to be different from other well known stillness communities, here, at lj.
Every week a differend challenge will be posted and contestants will have to fight for the first, second and third place in the voting that will take place from Friday till Sunday.

There will be special awards to the most dedicated members from time to time.

NEW MEMBERS ARE WELCOME TO JOIN AND START SUBMITTING THEIR ICONS!